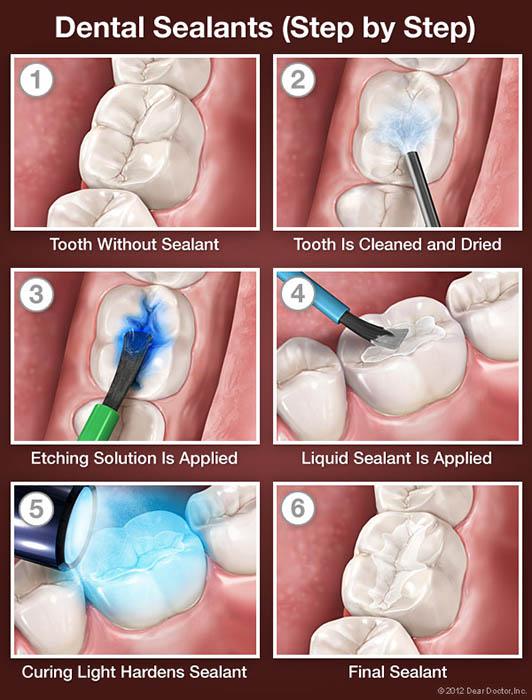 We understand that your child's oral health is of the utmost importance to you. Dental sealants are a valuable preventive measure which help safeguard your child's teeth against cavities and decay. In fact, sealants can protect your child's teeth for several years once they are in place.
Sealing Out Decay!
Dental sealants are one of the most effective ways to protect your child's teeth and smile. They are usually recommended as soon as their permanent molars come in (between the ages of 6 and 12) and can be applied in just a few minutes. Our pediatric dentist can even provide your child with sealants during their regular dental visits! Best of all, sealants are completely noninvasive, meaning that your child will have a comfortable experience while receiving this preventive treatment.
Dental sealants are made from clear or tooth-colored resin material. This material is painted onto the chewing surfaces of your child's teeth, where it forms a smooth coating over the tooth surfaces. The sealant then works to shield the tooth from decay-causing factors in the mouth, such as bacteria, plaque and food debris.
Dr. Rita Daghlian will check your child's sealants for signs of wear or chipping during their regular dental visits, and, if needed, can reapply their sealants.
How Sealants Benefit Your Child
Dental sealants have many benefits, including:
They are easy and comfortable to apply, so your child will remain relaxed during their treatment
Protection of your child's teeth begins immediately after sealants are applied
Sealants are highly effective in preventing cavities and tooth decay
They are durable under the force of normal chewing
They will last for several years after they are applied, offering long-term protection for your child's teeth and smile
Sealants are virtually invisible after they are placed
They help reduce deep grooves and depressions on tooth surfaces, making it easier for your child to keep their teeth clean with regular brushing and flossing
Sealants are highly affordable – in fact, the protection sealants offer can save you (and your child) money and time in the future
Schedule An Appointment Today
For more information about dental sealants in Newport Beach and Huntington Beach, California, or to schedule your child's appointment, call Daghlian Pediatric Dentistry & Sokolowski Orthodontics today!